Discussion Starter
·
#1
·
So I'm in the process of purchasing my first new bike, I've owned a couple used bikes from the 80's, currently I'm on a Ninja 250. I'm looking to step into the modern age with a modern bike, I enjoy the 250 currently but it would be nice to have some modern rider comforts out there. I'm not much of a track rider, just a commuter who likes to have fun. Nothing worse than sitting bumper to bumper in a Corolla...
Today I wanted to look at how the three bikes I'm considering stack up against one another: the CBR300R, the KTM Duke 390 and the Ninja 300R...
CBR300R
$4,500 (estimate from CBR250R)
30-35 hp
18.4 lb-ft
330 lbs (wet)
11-9.5 lbs/HP
Essentially a user friendly softcore introduction to sports biking
Diamond Frame with struss structure
Engine from CBR250R bored out to 300cc
low end grunt makes it sensible for city commutes
ABS available option
Styled like CBR500R
KTM Duke 390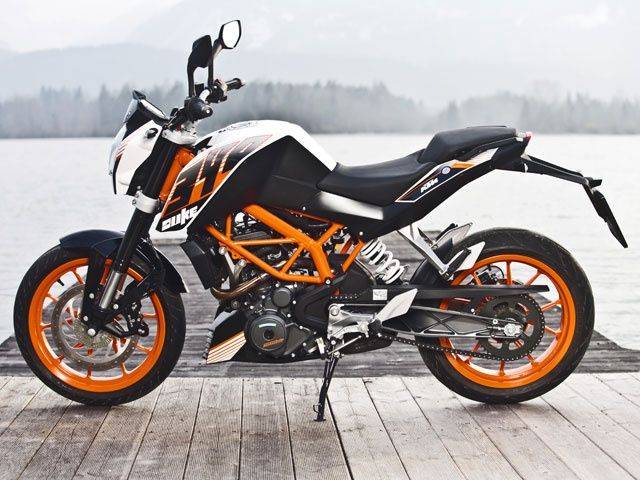 $6,495
44 hp
26 lb-ft
320 lbs (wet)
7.27 lbs/HP
Nimble, highly adept at slicing through traffic
Handling keeps you engaged constantly, even after you get bored of the power
Upside down forks, trellis frame
Top P/W
Nakeds aren't always fun on track
Small range from 11 L tank
ABS Standard
Ninja 300R
$4,999
35 hp
21.38 lb-ft
385 lbs (wet)
11.09 lbs/HP
Bike that birthed the segment with friendly power band and easy dynamics
Torque shows up at 3K and pulls happily until the fun starts at 8K
Conventional telescopic forks, twin spar frame
Great city bike, fairing air flow dissipates heat even in stop and go traffic
Kawasaki jet fighter scream sounds best of the three
All great options, the Ninjette is basically the pinnacle of cheap Japanese performance for 20 years, the KTM brings something intangible to the table. It may not be the best commuter bike, the cheapest or the best looking but it brings quirks and it brings fun. Just like the girl in high school you let get away to go chasing the bombshell blonde Ducati that you could never handle anyways. Plus its naked, who doesn't like to party naked? But the CBR300R is also an excellent choice, slightly under powered vs the KTM especially but it fairs well against the Ninja for cheaper. It depends on what you are looking for, the CBR is frugal and fun, the Ninja likewise, the KTM looks to be the most fun but you are going to pay an extra ~$1500 for that fun....
I don't have my mind anywhere near made up but would love any input from the community